Products I Use to Reduce My Use of
Single-Use Plastic
Reduce, Reuse, Recycle, Rihanna
* I am not sponsored by any of these companies, I just really love their products!
Everything and anything belongs in a jar! My favorite jar is from a thrift shop and it used to be the home to jam. I like to use old peanut butter jars for my coffee because they are a good size. The jars I buy my pureed tomatoes in make a beautiful and functional vase for flowers. I like to bring jars with me to grocery stores with a bulk section to avoid plastic and packaging. I buy yogurt and kefir in bulk and pack my breakfast in old jelly jars. I almost always have a jar on me JUST IN CASE.
These Ikea containers changed the game for me. These containers come in different sizes and the lids come in different materials but as long as you get all round containers they all fit together! We use these jars for so much: to freeze grapes, store hummus, as a cookie jar, to bring to-go lunches and so much more.
Click Here to change your food storage life.
It's 2019 just get over the plastic straw. I keep my metal straw in my bag at all times. For a quick clean after use I simply take a sip of water. About once a week I do a deep clean by submerging my straw in boiling water. According to ecocycle.org the average American will use 38,000 or more straws between the ages of 5 and 65, from now on I will use 1 metal straw.
Metal straws are easy to buy in bulk and I like to carry extra with me to gift to friends.
Click Here
S'well Reusable Water Bottle
Keeps my water cold, slim design fits in almost any bag and it NEVER leaks.
Click Here
I gave up on a travel mug that you could sip from the top and trust putting in your bag without it leaking.
Click Here
Berkey systems use charcoal to filter hard metals and chemicals out of tap water without using electricity. Water moves through 2 charcoal Berkey filters which purifies it. 2 pieces of charcoal can purify 6,000 gallons of water and just need to be cleaned every 6 months by simply scrubbing the outside of them.
A Berkey is a huge investment and not accessible to a lot of people because of this. I was kindly gifted my Berkey but my alternative would have been to use a Charcoal Purifying Stick that sits in a pitcher to purify water.
Click Here for Berkey
I'm a sucker for popsicles. Not only do these molds help me save single-use plastic but I love making my own popsicles. You can simply fill them with fruit juice or make your own tea, smoothie or coconut water base popsicle.
Click Here
Preserve and Wowe Toothbrushes
We are told to switch out our toothbrushes every 3 months and all of those plastic toothbrushes end up in a landfill or the ocean. Wowe reports that "50 million pounds of plastic toothbrushes make it to our landfills every year." Preserve toothbrushes are made from recycled yogurt cups and Wowe toothbrushes are made from Bamboo which is sustainable to grow and antimicrobial.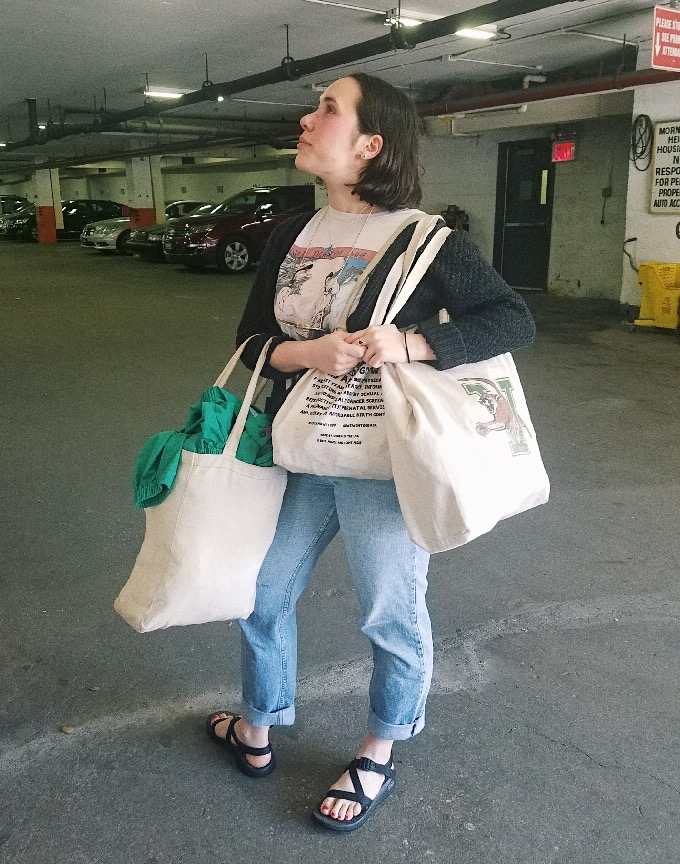 Plastic bags are a thing of the past. There's a tote bag for everything.
No need for pre-packaged and washed salad greens.
A salad spinner allows you to clean and dry lettuce and herbs. Good for right out of the ground, dirty and delicate lettuce.
Click Here for inspiration